A BREAKTHROUGH TREATMENT FOR PLANTAR WARTS

WHAT IS SWIFT THERAPY FOR WARTS?

Swift is a new technology, developed in the UK, which has been licensed for the general treatme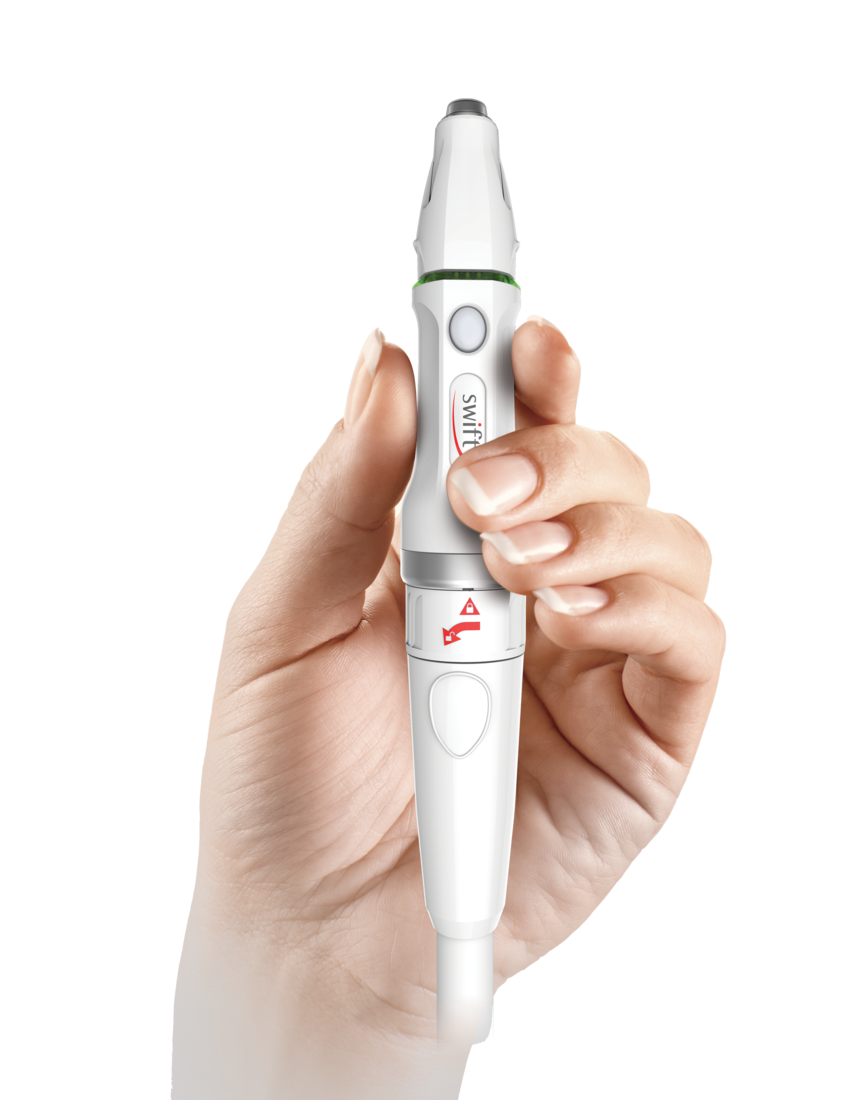 nt of skin lesions (warts/verruca). Swift treatment uses microwave energy delivered through a special probe that is applied to the skin. This probe generates heat within the verruca. Recent research has found that using this approach, called local hyperthermia, is much more effective at causing cell death within the wart than freezing or acid.
MICROWAVES!!?? ARE THEY SAFE?

Yes. Microwaves are a form of non-ionising radiation, this means they cannot cause damage to the DNA of living things. Aside from your kitchen appliances, microwaves are used in a number of every day devices including your mobile phone, bluetooth and even WIFI.
HOW DOES SWIFT WORK?

To really understand how Swift works, you must first know that when your body's cells are infected with the human papaloma virus (HPV) it has the ability to 'hide' in the body so that your immune system has no idea the virus is present.
Swift microwave therapy works by delivering energy to the site of the wart/verruca using a hand-held probe. Microwaves are delivered to a precise and predetermined depth. The microwaves heat the virally infected cells to 42-45 degrees, sending them into a state of stress. This stressed cell is then made visible to your immune system so it can then rid the body of the virus.
HOW DOES SWIFT COMPARE TO OTHER WART TREATMENTS?
Previous treatments used to treat warts like cryotherapy, salicylic acid, electrotherapy and excision are used to irritate the tissue and hopefully 'trick' our immune system into recognising certain cells are infected with the HPV virus. These treatments may work for some, however success rates are around 40-50% and often you may be left with a painful lesion that needs to be kept dry and will need redressing. Treatments can vary from daily to weekly and can be ongoing for months.
Swift does not disrupt healthy tissue, leaving it intact. That's great news, as it means there is no need for any dressings and there is no pain following the treatment. Meaning you walk out of the clinic just like you walked in!
DOES SWIFT HURT?

Treatment with Swift is extremely quick and requires no dressings. The rapid heating of the verruca/wart to 42 degrees can cause some discomfort, however this lasts for such a short time. Some people liken the sensation of swift to putting your foot in a hot bath and quickly removing as it feels to hot. Most people have no awareness of the treatment after about 2-3 minutes of treatment finishing.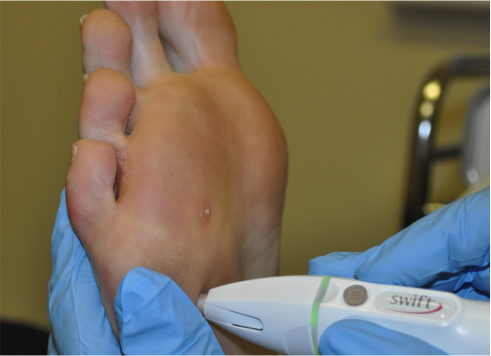 HOW OFTEN WILL I NEED TO COME FOR SWIFT TREATMENT?
At Sydney Podiatry Co we generally place treatments 4 weeks apart. Most people will need 3 treatments. Some people may need additional treatments, particularly if their verruca is longstanding.
IS THERE ANY PREPARATION REQUIRED PRIOR TO TREATMENT?
Generally no, however if your verruca/wart has substantial callous overlying one of our podiatrists at Sydney Podiatry Co may reduce this a few days prior to receiving your first Swift treatment.
AM I ELIGIBLE FOR SWIFT WART TREATMENT?
With a few exceptions, most people with skin verruca on their feet would be able to have this treatment. Our podiatrist's will carry out an assessment prior to treatment and be able to advise you on this.
I AM INTERESTED- WHAT DO I DO NEXT?

Swift is ONLY available at Sydney Podiatry Co Balgowlah. If you think Swift sounds like it's for you:
Call our Balgowlah Podiatry Clinic on (02) 9949 3327

Book online using the 'book now' button

E-mail us

reception@sydneypodiatryco.com.au

Complete our online enquiry form on the 'contact us' tab of our website.